Tomorrow the Tillster and I have a lot of baking to do. I volunteered to bring a dessert to Thanksgiving. I wanted to make these
cupcakes
. I then found out that I was the only one bring a dessert, and cupcakes just don't cut it on Thanksgiving. So, tomorrow I'll also be making a pumpkin pie and a cherry pie.
I'm really excited about the cupcakes though.
I other news, I made Tillie a teeny tiny clippie today.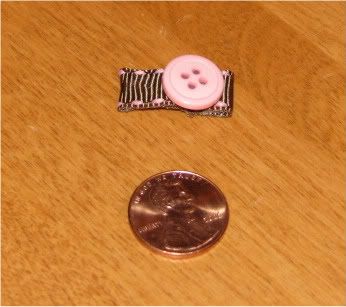 I needed a brown clip to match her Thanksgiving dress. (A striped sweater dress that I found at a garage sale for $2.) It's not a perfect match to the dress, but it will look adorable anyway! So far, the clip cost far more than the dress. I didn't have a glue gun. Isn't that crazy! I now have a cheap one and some other ribbon supplies for more clips.