The Kiz is generally pretty fashionable for an (almost) 8 year old. Some of that has to do with the fact that I shop for her a lot. But, she's got such great coloring that bold things look great on her. Along with everything else.
She recently outgrew a pair of calf hair leopard print ballet flats. I was so jealous of these shoes. (I did buy them for her, out of season from J. Crew for $12.) It was weird, because I don't wear animal prints. The beauty of leopard print shoes is that they don't match anything, so you can wear them with everything. I didn't realize this until I saw Kizie wearing them everyday.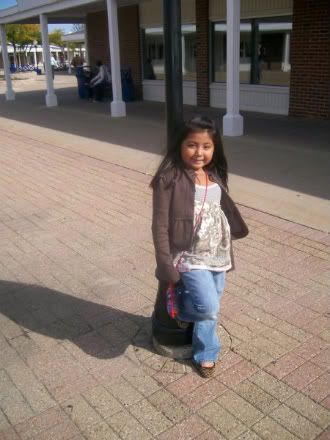 The Kiz looking fashionable in Michigan City, October 2008
I finally found a pair for me this spring at Macy's for $40. (Link)

I lo

ve them. I wear them all the time.
Last year when I was pregnant I needed a shoe with ridiculous support. They tend to be expensive, so I had one pair and I literally wore them every day that winter. When spring came, I bought a pair of sandals and wore them everyday. I'm really enjoying slipping into a different pair of ballet flats every day
.
What are your favorite pair of shoes?