Okay, some of you won't find this post very interesting. But! I just found a few great items conducive to breastfeeding at Old Navy.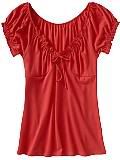 Ruffled V-neck Top
They have this in a lot more colors in the store. It's not super-fitted which is great for someone who just had a baby. It's cute, there's full coverage and the neckline is totally elastic! I'll be picking up another one of these as they're only $15! (It also comes in a
dress version online
. I'll be ordering that soon to try!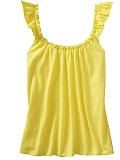 Ruffled Jersey Babydolls
This top has all the same features as the other. Who would have thought I'd be so excited about elastic necklines? I think it's on sale for $8 in the store.
Now if I could only find bottoms to fit...