Here's our mission:
I bought these pants for LuLu in February.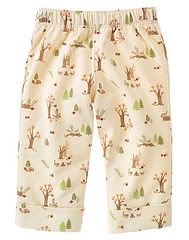 They were only $2 at Gymboree. It's hard to see in the picture, but they have trees, mushrooms, squirrels and acorns on them. Yes, I had to have them. I knew Tim would think they were cute.
They were so cheap because they were a return from over a year ago. But, there was no matching top. Sure, I could just put a solid onesies with it, but they're newborn size and I really have only found white.
I think we have a solution...I just need another day or two. Check back Monday and keep your fingers crossed!