So, Tim has wanted a
Chariot
for LuLu from before he/she was conceived. You think I'm joking... It is the stroller to have amongst his friends. I'm pretty sure they all have one. He has been scouring Craigslist with no luck. I was telling my mom about this the other day, and did she ever have a find today!
She went to
The Outpost
to look for something and found they had two Chariots on closeout as floor models. I told her I would probably go look at them tomorrow, but wanted to know what models they were. She went back and found that one was a single and one was a double. The double was the
Cougar 2
, with a bajillion accessories, listed at a price below what it would be for the chassis alone. I told her that I thought I just wanted her to buy it, as we had some money saved for it and this was a sweet deal. It came with a cargo rack, fenders, jogging brake, strolling wheels, handle bar bag, rain cover and travel bag. The only things I would probably still get later are the infant sling and the bike trailer attachment. Maybe the jogging wheel too. If Tim wants the skiing harness, that will be his money!
The reason we got the double is that you can remove one harness and use it for just one. That way, we won't have an obsolete stroller when baby number 2 decides to come along. Or, my baby can ride with Dykhouse's future yet-to-be-conceived baby. She's mentioned she wants Tim to cross-country ski pulling our kids!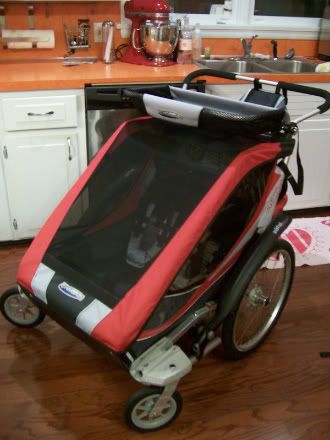 So, now Tim can fit in with his friends. I'm still looking forward to my
Graco Catalina
stroller!