I know it might seem like I wear pajamas only every Sunday. Really, I don't! It's just that the pictures are taken when I get home from work and I've changed already. Mostly I change, because I tend to wear dresses on Sunday, and that's not super-conducive to a bare belly shot! Last week I actually had two people ask me when I was due. One at church and one was a random customer. I thought that was pretty risky. When I'm wearing a cardigan and jeans at work, I still think I look a little more pudgy than pregnant. Clearly, we're getting somewhere though!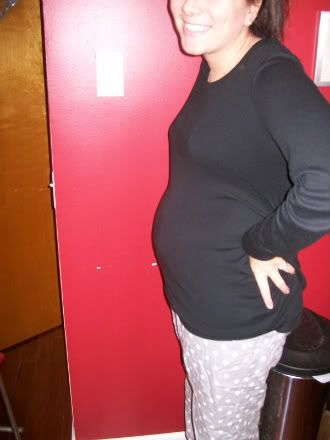 On Thanksgiving I asked Kizie to take the Chex Mix away from me because I didn't want to eat it all and get fat.
She grabbed the tuperware and said, "You already are fat."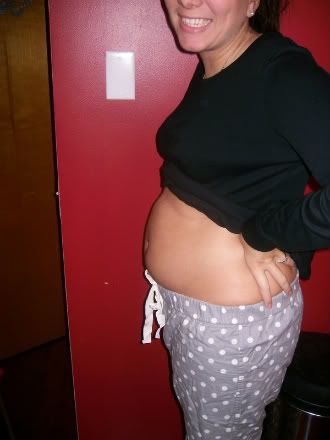 I'm pretty sure she's the only one who I could take that from. When I was telling this story later to Joy Kizie was there and said, "Well, you are! Look!" and she pointed to my belly. "And, you're only going to get bigger!" She's blunt, that little sister of mine. But, we looked good on Thanksgiving. You can't see it in this picture, but I'm wearing my cream kneesocks with reindeer on them. Awesome.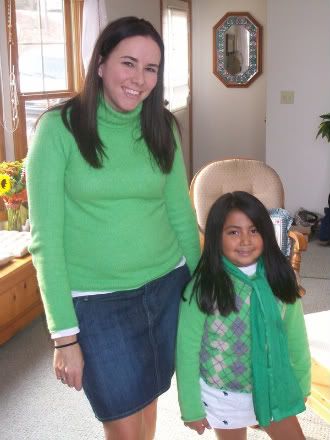 Yesterday we stopped at school to see Honeybee and took the Kiz with us. The flying squirrel likes her!
This one's blurry, but Honeybee moves fast. It was hard for me to catch a picture of her on Kizie. She jumped on Kizie's shoulder a few times too.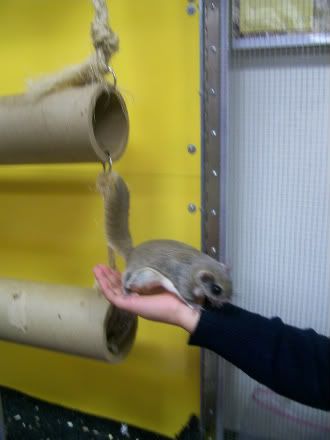 You still don't believe me about the pajamas thing, do you? Just to prove it, here's today's outtake. Tim decided we needed a bare belly shot too.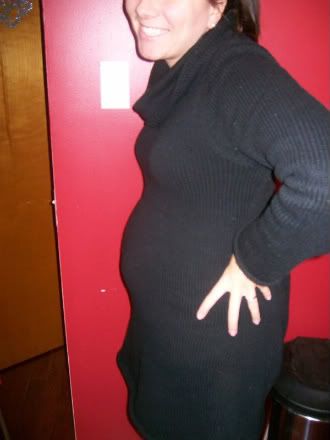 p.s. I have no idea why photobucket is so janky an sometimes posts my pictures sideways. If you click on them, you'll be taken to the picture in the correct rotation.